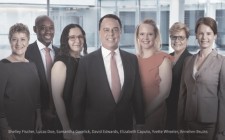 Smart Fiduciary Strategy Results in 30% Annual Growth at Fee-Only Wealth Management Firm
New York, NY, July 25, 2017 (Newswire.com) - Heron Wealth, a SEC Registered Investment Advisor based in New York City, was named to Financial Advisor magazine's 2017 Top 50 Fastest Growing Investment Advisors list.  Heron Wealth provides financial planning, investment advice, and estate planning for individuals and families.  The 2015-2016 growth rate of 30% was achieved organically through the addition of new families and assets, not through acquisitions or mergers with other independently owned and operated firms.
The overall ranking in the annual survey is based on assets under management. To be eligible, firms must be Registered Investment Advisors and provide financial planning services to individual clients.
NOTEWORTHY GROWTH
Heron Wealth grew from $72 million in assets as of January 2013 to $295 million through July 2017.  "We plan to double assets over the next three years, and double again within seven years to $1 billion," Edwards said.  "We will continue to deliver the high touch experience our clients expect, but also derive the revenues necessary to support our continued investment in human capital, technology, cyber security, compliance, and operations," added Edwards. "In an environment of rapid industry evolution, our goal it is to lead peer firms by 18 months."
BUILDING FOR THE FUTURE
"The future is bright for Heron Wealth, but more importantly, we are now positioned to serve younger individuals as they move through the early accumulation years into their peak earning years.  These clients can approach such goals as saving for a child's education or enjoying a fabulous retirement with confidence thanks to proper planning, saving and investing over the course of time," Edwards noted.
"Much of our marketing is directed to GenXers and Millennials," Edwards explained. "We have two advisors who are in their 30s. We give them support and mentoring, and get them in front of prospects as quickly as possible. Our training process is built around 'grow with your clients."
ABOUT HERON WEALTH AND DAVID EDWARDS 
David Edwards is president and founder of Heron Wealth, which provides financial planning, investment advice, and estate planning to individuals and families across the United States and overseas in Europe and South America.  Review Heron's video Plan, Grow, Keep!
Edwards is a member of the Investment Adviser Association, serving on the Legislation and Technology committees. Edwards was selected to serve on the eMoney Advisory Board in March 2016. Serving on the Advisory Board allows Edwards to contribute to the ongoing success and development of eMoney's financial planning and digital wealth management technology while keeping him in the loop on future developments and innovations within the financial services industry.
Prior to founding Heron Wealth, Edwards was associated with Morgan Stanley, JP Morgan and Nomura Securities where he developed investment products and quantitative trading models. For fun, Edwards competes frequently in sailing regattas from New England to the Caribbean and coaches a home town team in New York Harbor. Learn more at www.HeronWealth.com. 
Media Contact:           
Leesy Palmer
Impact Communications
913-649-5009
leesypalmer@impactcommunications.org 
# # #
Source: Heron Wealth