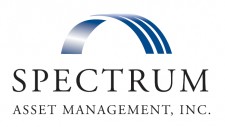 Orange County-based Needelman Asset Management Latest to Join the Fold
NEWPORT BEACH, Calif., August 28, 2018 (Newswire.com) - Spectrum Asset Management (Spectrum), an SEC-registered investment advisory firm that manages approximately $500 million in client assets, has developed a unique approach to identifying and implementing integrations of other advisory firms that is proving to be extremely successful. The independently owned and operated wealth management company today announced its third acquisition: Needelman Asset Management.
"We were looking for a group large enough to enhance our existing offerings, but one where we felt we could make a meaningful contribution to their business," said Mitch Needelman, CFA, president of Needelman Asset Management. "One of the first documents I was given was entitled The Spectrum Way, detailing the team standards of integrity, professionalism and empowering clients. From early in the process, I knew that we shared core beliefs. Joining Spectrum was a great opportunity for us and for our clients." 
"When we engage with advisors looking for succession strategies, the primary focus is cultural fit and whether the principal is emotionally ready to transition the business," said Spectrum's CEO Ryan Kelly. "It's easy to get distracted by the math, but we know from experience that successful transitions are driven by a clear picture of what a 'win' looks like."
NOT JUST A FINANCIAL TRANSACTION
Over the past six years, Spectrum has successfully integrated three independent advisory firms in southern California, with the principals of each firm typically joining Spectrum as executive vice presidents. Spectrum's perspective is that transition is not simply a financial transaction, but an emotional process with which the selling firm must be comfortable. Any number of things can sabotage a deal, delaying the principal's ability to move on to the next chapter. Advisors frequently spend months dancing around key emotional issues only to walk away at the eleventh hour or experience their discomfort emerging months later and they'll unwind the entire transaction. Spectrum's approach is to ensure that subconscious beliefs are called out into the open from the beginning, so they can be handled with skill, empathy and respect. 
"We look for Three Wins – the clients must win, the advisor must win and Spectrum must win. When those three wins are in alignment, we have the makings of a successful transition," said Kelly, a Newport Beach native who is active in his community. "Advisors we talk with have been on a long journey as business owners and we are able to serve as a guide as they determine what THEIR next chapter should look like. Merging requires giving up the 'illusion of control' in order to gain freedom, peace of mind and time for the things that matter most. The reality of any transition deal is that the advisors face many obstacles; some can be catastrophic, but most are easily navigated with the right guidance."
EXPERIENCED TRANSITION PARTNER
Having seen many unsuccessful "mergers" throughout the '90s, Spectrum completed its own family transition from father/son co-founders R. "Kelly" Kelly and Marc Kelly to son/brother Ryan Kelly in the early 2000s. In addition to expanding from pure portfolio management into comprehensive wealth management, Spectrum leveraged its hard-won wisdom and experience to assist other RIAs in successfully crossing the chasm of uncertainty.
"We have not only worked successfully through three acquisitions in just six years, but we have also walked more than a few miles in their shoes," Kelly added. 
In 2012, Nancy J. Howard, CFP®, merged Harrigan and Howard Financial Advisors with Spectrum as the next step in her 40-plus-year career in the industry. In 2013, Michael J. Ottman merged Ottman Financial Group Inc. with Spectrum. Father-son team Chet and Mitchel Needelman of Needelman Asset Management are the latest to join the Spectrum fold.
ASKING THE RIGHT QUESTIONS
"Everyone in the financial services industry has heard war stories of merger and acquisition discussions going south well into the negotiation phase," said Kelly. "We have been successful because we ask important, non-standard questions up front, such as: Over the next three years, what do you want to see happen in order to be happy with your progress? What is important about transition to you? And what are you optimizing for? If the principals aren't willing to address those questions, then there's no reason to continue the conversation. It's that simple."
Spectrum Asset Management is actively looking for additional independent financial advisory firms in Southern California that are on their own journey of transition and may be seeking a right-fit succession or continuity plan. Firm principals interested in having a conversation about the Three Wins should contact Spectrum CEO Ryan Kelly at 949-717-3400 or Ryan@MySpectrum.com.
ABOUT SPECTRUM ASSET MANAGEMENT INC.
Founded in 1987, Spectrum Asset Management is a fee-only independent Registered Investment Advisor (RIA) with the Securities and Exchange Commission (SEC). Based in Newport Beach, California, with a satellite office in Maui, the firm directly manages client accounts held in custody by independent custodians, such as Charles Schwab, TD Ameritrade and Comerica. A second-generation family business, the firm's clients are primarily individuals, families and institutions with liquid assets of $1 million-$30 million. For more information, visit www.MySpectrum.com.
Contact:
Leslie Swid
Impact Communications
(913) 649-5009
LeslieSwid@ImpactCommunications.org
Source: Spectrum Asset Management